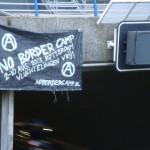 [English Below]
Wij roepen op aanwezig te zijn op het N0 Border Camp (NBC) en om naar de demonstratie op 10 augustus in Rotterdam te gaan.
Omdat de staten en bedrijven die de grenzen maken en bewaken onze natuurlijke vijanden zijn in de voortdurende strijd voor vrijheid.
Omdat de steeds indringendere hetze tegen de verschillende migranten past binnen de internationale tactieken van repressie door de overheden en semi-overheidsorganisaties om hun machtspositie uit te breiden en te intensiveren.
Omdat we het belangrijk vinden dat we zichtbaar zijn op straat als anarchisten, en om het veelvuldige door de autoriteiten aangevallen concept van demonstraties toch uit te blijven voeren.
Omdat wij solidair zijn met de strijd van de hongerstakers en de mensen in de verschillende vluchtkampen- en panden.
Omdat niemand legaal of illegaal is.
Omdat anarchie geen bazen en politici kent, maar ook geen legale statussen, racisme, mensenrechten of gevangenissen. Het zijn allemaal definities en praktijken van het bestaande systeem van onderdrukking en uitbuiting.
Vergeet ook niet waar NBC sowieso voor oproept:
'We moedigen alle groepen, organisaties, collectieven en individuen aan om gedecentraliseerde acties en andere initiatieven te verrichten gedurende het No Border Camp, of om op enige andere mogelijke wijze iets te ondernemen tegen de migratiepolitiek!'
Tot op het No Border Camp, en tot zaterdag de 10e!
Tegen staten, tegen grenzen,
vrijheid voor alle mensen!
Anarchistische Groep Amsterdam
********************************
We call out to be present on the No Border Camp (NBC), en to show up on the demo of the 10th of August in Rotterdam.
Because the states and companies, who create and guard the borders are our natural enemies in the ongoing struggle for freedom.
Because the intrusive smear against the several migrants fits within the international tactics of repression by the governments and semi-governmental organizations, to expand and intensify their power positions.
Because we think it is important to be visible in the streets as anarchists, and to keep on executing the concept of demonstrations which is under continuous attack by the authorities.
Because we are in solidarity with the hunger strikers and the people in the several refugee camps and buildings.
Because no one is legal or illegal.
Because anarchy knows no bosses and politicians, but also no legal statuses, racism, human rights or prisons. These are all definitions and practices of the existing system of oppression and exploitation.
And remember what the NBC is calling out for:
'We strongly invite all groups, organizations and individuals to organize autonomous actions and other initiatives of their own during the No Border Camp!'
See you on the No Border Camp, and see you on Saturday the 10th!
Against states, against borders,
freedom for all people!
Anarchistische Groep Amsterdam