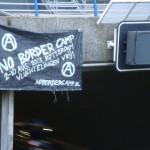 [English Below]
Wij roepen op aanwezig te zijn op het N0 Border Camp (NBC) en om naar de demonstratie op 10 augustus in Rotterdam te gaan.
Omdat de staten en bedrijven die de grenzen maken en bewaken onze natuurlijke vijanden zijn in de voortdurende strijd voor vrijheid.
Omdat de steeds indringendere hetze tegen de verschillende migranten past binnen de internationale tactieken van repressie door de overheden en semi-overheidsorganisaties om hun machtspositie uit te breiden en te intensiveren.
Omdat we het belangrijk vinden dat we zichtbaar zijn op straat als anarchisten, en om het veelvuldige door de autoriteiten aangevallen concept van demonstraties toch uit te blijven voeren.
Omdat wij solidair zijn met de strijd van de hongerstakers en de mensen in de verschillende vluchtkampen- en panden.
Omdat niemand legaal of illegaal is.
Omdat anarchie geen bazen en politici kent, maar ook geen legale statussen, racisme, mensenrechten of gevangenissen. Het zijn allemaal definities en praktijken van het bestaande systeem van onderdrukking en uitbuiting.
Vergeet ook niet waar NBC sowieso voor oproept: