Vandaag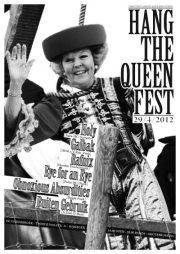 werd de website van de Grote Broek in Nijmegen (www.grotebroek.nl) op zwart gezet om promotie van het HANG THE QUEEN Fest, een vervolg op het succesvolle FUCK THE QUEEN Fest van vorig jaar en het FUCK THE QUEEN Fest van het jaar daarvoor.
Mooie poster (beetje te veel aandacht voor Beatrix naar mijn smaak. En een beetje te weinig voor het uitzinnige feest dat er rond haar opknoping zou kunnen losbarsten). Hij doet overigens wel een beetje denken aan deze poster: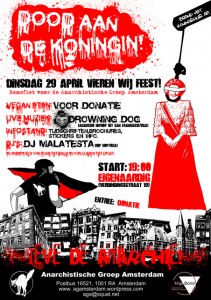 Al is-ie misschien iets subtieler.
Hoe dan ook, in Nijmegen hebben ze al vaker gedonder gehad om posters, zie ook deze poster waarvoor zelfs twee Nijmegenaren werden gearresteerd en voor een rechtbank werden gedaagd: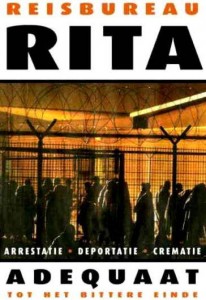 De rechter vond het overigens onsmakelijk dat hier een foto van een concentratie kamp werd gebruikt…Tja, wat moet je daar nog op zeggen?
Wat moeten we hieruit opmaken? Dat posters blijkbaar meer kracht bezitten dan we ons realiseren? Nee, als dat zo was kwamen er wel meer mensen op onze demo's (aauuww). Blijkbaar hebben de smeris en het OM het niet druk genoeg en moeten zij voor hun lol naar de Broek toe komen om mensen te porren en te pesten. Dus de taak voor ons allemaal om hen eens wat meer bezig te houden met echte shit ipv deze onzin over een plaatje van een koningin. Hoe het ook zij: solidariteit vanuit Amsterdam veel succes met het HANG THE QUEEN Fest!