more info https://rupression.com
Sunday 7th of April EARLY START at 24:00 closed !
5 euro donation 17:00 door open

17:30 Info talk
from Russian comrades about the repression of anarchist and anti fascist movement in Russia today.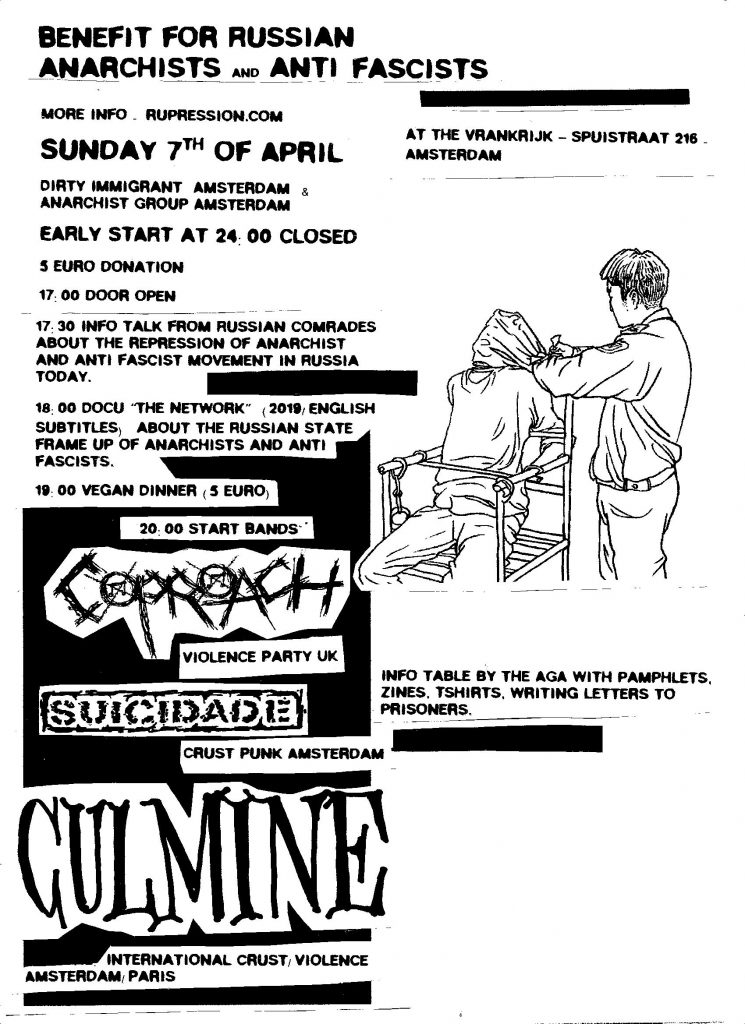 18:00 Docu "the Network" (2019/English subtitles)
about the Russian state frame up of anarchists and anti fascists.
19:00 Vegan Dinner (5 euro)
20:00 Start Bands
Coproach
Violence Party – UK
https://coproach.bandcamp.com/

Suicidade
Crust Punk -Amsterdam
https://suicidade.bandcamp.com/

Culmine
International Crust/Violence – Amsterdam/Paris
https://culmine.bandcamp.com/
Info table by the AGA with pamphlets, zines, Tshirts, writing letters to prisoners.
At the Vrankrijk – Spuistraat 216 – Amsterdam
This event is organized by:
Dirty Immigrant Collective Amsterdam
https://www.facebook.com/dirtyimmigrantamsterdam/
and
Anarchist Group Amsterdam
https://agamsterdam.org