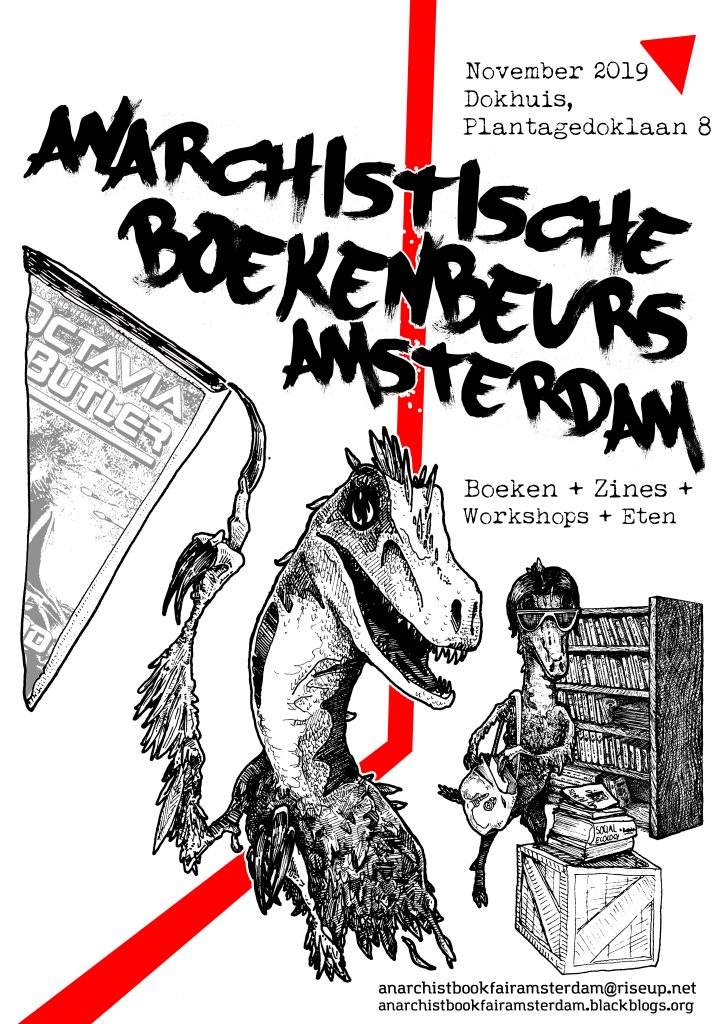 De anarchistische boekenbeurs Amsterdam zal in november 2019 plaatsvinden! Dit is de 3e keer dat wij deze jaarlijkse boekenbeurs organiseren. De eerste twee jaren waren zo'n succes dat ze naar meer smaakten. Dus ook dit jaar kun je in november naar het Dokhuis voor al je anarchistische boeken, zines, stickers, posters, buttons, kleding en veel meer!
De specifieke datum moet nog bekend worden, maar het is al zeker dat het in het Dokhuis in november zal zijn. Hou onze website en facebook in de gaten voor updates. Zodra de datum bekend is zullen we dat daar laten weten.
Wil je een stand doen, workshop geven of helpen bij de boekenbeurs? Laat het ons weten!
Plantage doklaan 8, Amsterdam
November
anarchistbookfairamsterdam@riseup.net
http://www.anarchistbookfairamsterdam.blackblogs.org
ENGLISH VERSION
The Anarchist Book Fair Amsterdam will be organized in November 2019. This is the 3rd year in a row that we have organized this anual book fair. The first two years were so succesful that we had a taste for more. So this year you can come to the Dokhuis again for all your anarchist books, zines, stickers, posters, buttons, clothing and much more!
The specific date still has to be confirmed, but we are going to organize it at the Dokhuis in November. Keep an eye on our website and facebook for updates. As soon as we have confirmed the date we will let you know there.
Do you want to run a stand, give a workshop or help out at the book fair? Let us know!
Plantage doklaan 8, Amsterdam
November
anarchistbookfairamsterdam@riseup.net