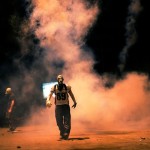 20 juni 20.00 filmscreening over opstand in Turkije
in de Bollox: Eerste Schinkel­straat 14-16 Amsterdam
Filmmaker Brandon Jourdan van de Global Uprisings filmreeks is net terug na twee weken in Istanbul. Op 20 juni 2012 zal hij in de Bollox over de situatie in Turkije vertellen maar vooral zal hij zijn filmbeelden laten zien. Zijn verzamelde materiaal documenteert een groot deel van de eerste twee weken van de opstand en bevat interviews met  deelnemers aan de Occupy Gezi protesten. Terwijl Jourdan in Istanbul was werkte hij voor het Amerikaanse TV/radio programma Democracy Now. Zijn verzamelde materiaal zal worden gebruikt in een nieuwe documentaire als onderdeel van een online-serie op www.globaluprisings.org, met films uit onder meer Egypte, Griekenland, Spanje, Portugal, het Verenigd Koninkrijk, en de Verenigde Staten.
Filmmaker Brandon Jourdan of the Global Uprisings film series has just returned after two weeks in Istanbul. He will discuss the ongoing situation in Turkey and show his footage on June 20, 2013 at the Bollox. His collected material documents most of the first two weeks of the uprising in detail and includes interviews with participants in the Occupy Gezi protests. While in Istanbul, Jourdan was working for the US nationally-syndicated TV/radio show Democracy Now. His collected material will be used in a new documentary as part of an online series at www.globaluprisings.org, which include films from Egypt, Greece, Spain, Portugal, the UK, and the United States.