* English below *
Op oudejaarsavond 31 december 2015 hebben wij met 120 mensen een zwaaidemonstratie gehouden bij migrantengevangenis Schiphol. Dit gebeurt elk jaar in solidariteit met de mensen die vast zitten om hen een hart onder de riem te steken, hopend op een nieuw jaar in vrijheid.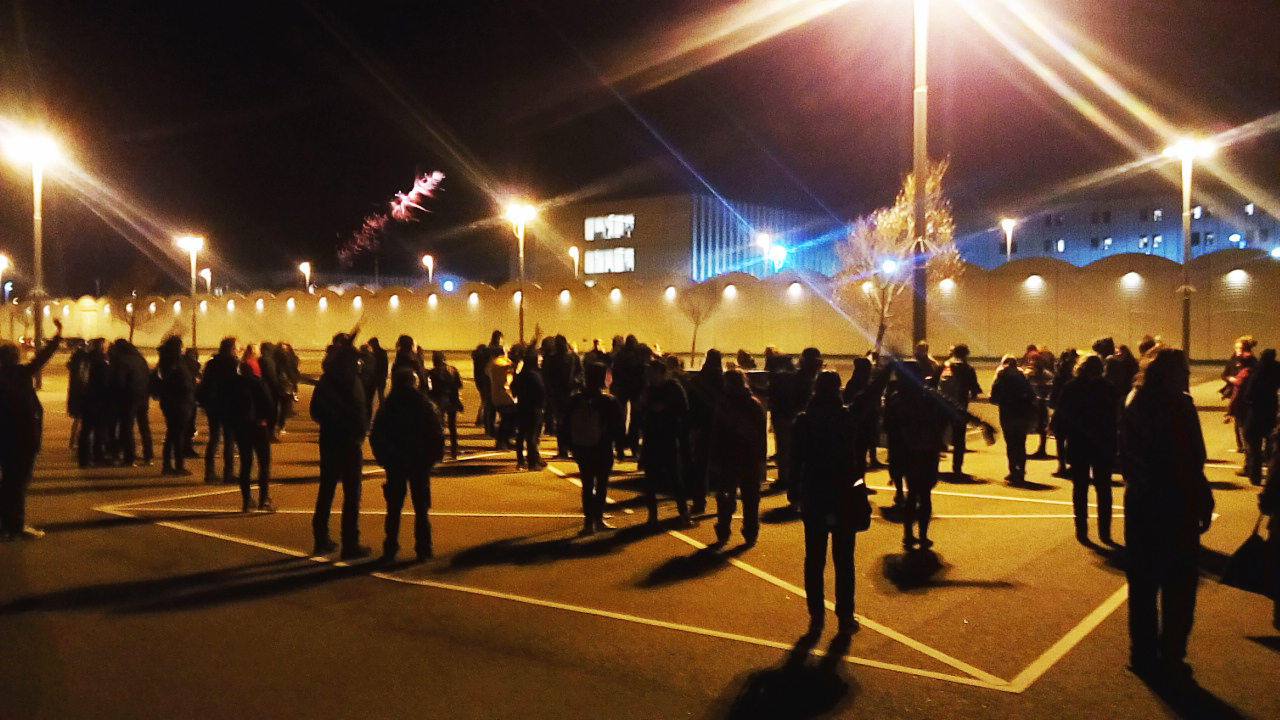 Daar aangekomen staken we vuurwerk af, speelden we muziek over de soundsystem en met een sambaband en hebben velen speeches gegeven om de mensen binnen te laten weten dat ze niet vergeten zijn. Zoals een van de mensen die aan het speechen waren het zo mooi zei: "Het maakt niet uit wie je bent, welke kleur je hebt, en waar je vandaan komt, wij wensen jou een nieuw jaar in vrijheid en met gelijke rechten."
De mensen in de cellen waren duidelijk zichtbaar, reageerden op ons en zwaaiden terug. Het was vreselijk om te bedenken dat dat mensen zijn die waarschijnlijk gevlucht zijn voor oorlog, armoede, repressie, racisme of een uitzichtloze toekomst, en alleen maar daarom worden vastgezet door onze overheid. Vooral dit jaar, met de grote vluchtelingenstroom, was een jaar van veel leed, waarin enorm veel mensen hebben gekozen om huis en haard achter te laten omdat het daar te gevaarlijk was geworden. Wij vinden dat mensen altijd het recht hebben om naar een veilige plek te vluchten, en daar verwelkomd zouden moeten worden. Het systeem waarin we leven met grenzen en gevangenissen is iets waar zo snel mogelijk een einde aan zou moeten komen, iedereen zou moeten kunnen wonen op de plek van hun keuze.
Helaas hebben we aan het eind van de avond diezelfde gevangenis nog van binnen gezien omdat de marechaussee ervoor gekozen heeft om iedereen aan te houden. Dit was erg vervelend, met name voor de mensen van Wij Zijn Hier die geen papieren hebben en elk jaar het risico nemen met ons mee te gaan uit solidariteit met de mensen binnen. Gelukkig is uiteindelijk iedereen vrijgelaten.
Laten we vooral niet vergeten dat het een fantastische actie was, dat we met z'n allen een nieuw jaar hebben ingeluid in de naam van vrijheid, en ons ook komend jaar hard zullen maken voor die van iedereen.
Anarchistische Groep Amsterdam
www.agamsterdam.org
*English*
New Year's Eve Noise demonstration at Schiphol.
On New Year's Eve, 31st of December 2015, 120 people demonstrated at the migrant prison Schiphol. We do this every year in solidarity with the people who are being held inside, to show them solidarity and hoping for a new year in freedom.
When we arrived at the prison, we had fireworks, played music with a samba band and with a sound system, and many people gave speeches to let the people inside knowthat they aren't forgotten. As one of the people who were giving a speech said it beautifully: "It doesn't matter who you are, what color you have and where you come from, we wish you a happy new year in freedom, with equal rights."
We could cleary see the people in the cells, they reacted to us and waved back at us. It was horrible to think that they most probably fled situations of war, poverty, repression, racism or a future without prospects, and are locked up by the government only because of that. With the exceptionally high amount of people fleeing, this year especially was a year of sorrows for many who chose to leave their homes because it was too dangerous there. We think that people always have the right to flee to a safe place. The system we live in with borders and prisons is something that should be ended as soon as possible, everybody should have the right to live in the place they choose to live in.
Unfortunately we ourselves saw that same Schiphol prison fron the inside after the marechausse (military police) chose to arrest us all. This was very unpleasant, especially for the We Are Here group who don't have papers and take the risk every year of joining us in solidarity with the people on the inside. Fortunately everybody got released eventually.
Let's not forget that it was a great action, and that we started a new year together in the name of freedom, and will commit ourselves this year again for everybody else's freedom.
Anarchistische Groep Amsterdam
www.agamsterdam.org