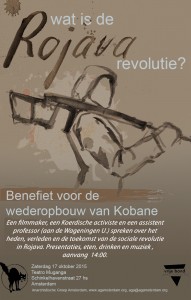 Op zaterdag 17 oktober organiseert de AGA een dag over Rojava en de toekomst van de sociale revolutie daar. De opbrengst van deze dag zal gaan naar het werk van de DAF in Kobane.

Rojava is een streek in Noordoost Syrië waar voornamelijk Koerden wonen. Sinds het begin van de burgeroorlog in Syrië, nu 4 jaar geleden, heeft deze streek zich autonoom verklaard en is er een systeem van directe democratie en zelfbeheer ingevoerd.
Een van het meest in het oog springende ontwikkelingen daarbij is de positie en de rol die vrouwen spelen in de samenleving. Helemaal als die positie wordt vergeleken met die van vrouwen in de omringende landen waar die positie de afgelopen jaren ernstig verslechterd is of onder zware druk staat. Door het economisch zelfbestuur, het radicaal democratisch bestuur en de zichtbare en actieve rol die vrouwen spelen op elk niveau van de samenleving lijkt er in Rojava een sociale revolutie te hebben plaats gevonden.
Wat is de achtergrond en context van de sociale revolutie in Rojava? Is het wel een revolutie en wat houdt die revolutie eigenlijk in? En wat zijn de uitdagingen, in het heden en voor de toekomst?
Daarover gaan spreken: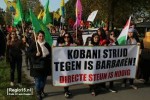 Een Koerdische activiste, actief in de Koerdische onafhankelijkheidsbeweging, in Koerdistan en hier.
Documentaire maker Reber Dosky, hij was verschillende keren in Kobane ten tijde van de belegering en maakte daarover onder andere de korte documentaire: Een dag uit het leven van een sluipschutter tegen IS
En assistent professor aan de Wageningen Universiteit Joost Jongerden. [CANCELLED]-> Alex de Jong
Het stadje Kobane aan de Turks-Syrische grens vormt de hoofdstad van een van de kantons van Rojava. Kobane werd wereldberoemd toen de slecht bewapende verdedigers van de stad, tegen alle verwachting in, maandenlang standhielden tegen de zwaarbewapende Islamitische Staat. De stad werd grotendeels verwoest in de gevechten. Activisten van allerlei socialistische en anarchistische groepen helpen bij de wederopbouw van Kobane waaronder de Turkse groep Revolutionaire Anarchistische Actie (Devrimci Anarşist Faaliyet, of DAF). Zij waren ook actief in Kobane ten tijde van de belegering door IS en zij zijn nu nauw betrokken bij het organiseren van de wederopbouw van de samenleving. De opbrengst van deze dag zal gaan naar het werk van de DAF in Kobane.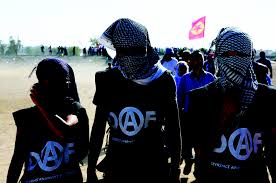 Vanaf 19:00 gaat het programma verder met eten bij Meisie Mou in de MKZ, om de hoek op de Schinkelstraat 14, met een Skype gesprek met mensen van DAF over hun werk in Kobane en (Koerdische) live muziek.
Zaterdag 17 oktober
Vanaf 14:00
Teatro Munganga,
Schinkelhavenstraat 27, Amsterdam
Entree gratis, donaties gaan naar DAF.