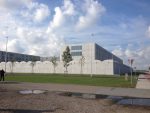 A report of the May 7 2016 transnational day of action against detention centres.
In the Netherlands and Europe every year thousands of people – adults and children – are being detained in migrant detention centres against their will – virtually without time limit, adequate access to legal support or health care – just for being migrants.
On the 7th of May, simultaneous demonstrations were held around Europe to protest against the existence of these detention centres and in solidarity with people in struggle against the racist borders and migration controls of fortress Europe, from Calais to Idomeni.
On this Saturday we organized a wave and noise demonstration outside Justitieel Complex Schiphol. This is a monster-complex just outside of Amsterdam where, at the moment close to 60 migrants are locked up for an indefinite time because they are deemed 'illegal'.
We started the day by preparing food, handing out flyers and making banners at the Alerta Alerta antifascist festival in Amsterdam. In the afternoon a little under 40 people joined to support the imprisoned migrants with music, solidarity messages in (Albanian, Ukrainian & Tegrinia), dancing and banners. We walked around the complex and staged an energetic demo for half an hour with lots of contact with the people inside, who seemed to appreciate our sudden appearance.
After the bus returned to Amsterdam, a group of about 20 people set out in a demonstration to the former prison at the Havenstraat, where refugees are forced to stay while awaiting the start of their asylum procedure. We shared food and sweets with the people there as a welcoming gesture and a show of support.
Reflecting on the day: it is hard to look at people trapped in a stuffy box with no way out, on a beautiful, hot spring day and not feel overcome by the suffocation and claustrophobia that a lot of those people inside must feel. While we are angry to see so many people still being brutalized by migration controls every day. We are encouraged by the fact that our demonstrations have been part of so many Europe wide actions against detention centres and against the system of exclusion, criminalization and detention of migrants.
NO BORDERS! NO NATIONS! NO FORTRESS EUROPE!!
There have been actions across the UK and in The Netherlands, Germany, Aurtia, Belgium and Iceland a.o. at:
Dungavel detention centre (Scotland, UK), Morton Hall detention centre (Lincoln, UK), Yarl's Wood detention centre (Bedfordshire, UK), Cedars detention centre (West Sussex, UK), Campsfield detention centre (Oxfordshire, UK), Brook House detention centre (Gatwick, UK), Tinsley House detention centre (Gatwick, UK), Harmondsworth detention centre (Middlesex, UK), Colnbrook detention centre (Middlesex, UK), The Verne detention centre (Dorset, UK), Exhibition at former detention centre (Frankfurt, DEU), Detention centre Schiphol (Amsterdam, NLD), Detention centre Reykjavik (ISL), 127 bis detention centre (Steenokkerzeel, BEL), Coquelles detention centre (near Calais, FRA), Märsta detention centre (SWE)