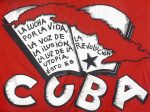 [English below]
Infoavond – Cuba, socialistische vrijhaven of gecamoufleerd neo-liberaal project?
Een activist uit Cuba is op tour in Europa en zal in Amsterdam en Nijmegen komen vertellen over de sociaal economische situatie in Cuba. Hij zal hierbij aandacht besteden aan de economische transitie die 'revolutionair' Cuba op het moment door maakt en over de activiteiten van zijn organisatie 'Taller Libertario Alfredo López', in Havanna.
Taller Libertario Alfredo López is betrokken bij het opzetten van de Caribische Anarchistische Federatie: een netwerk van activisten en groepen uit onder andere de Dominicaanse Republiek, El Salvador en Mexico. Tevens zijn zij bezig met de voorbereidingen voor het stichten van een sociaal centrum (https://www.gofundme.com/gg2wrcac). Er zal deze avond ook ruimte zijn voor vragen en discussie.
Amsterdam
Datum: vrijdag 12-08-2016
Tijd: 19.30 uur
Locatie: Anarchistische Bibliotheek, Eerste Schinkelstraat 14-16, Amsterdam
Nijmegen
Datum: Woensdag 17-08-2016
Tijd: 20:00
Locatie: de Klinker, van Broeckhuysenstraat 46, Nijmegen
—————————————————————————
Infonight – Cuba, socialist free haven or camouflaged neo-liberal project?
An activist from Cuba is on tour through Europe and will speak in Amsterdam and Nijmegen about the social economical situation in Cuba. He will pay particular attention to the economical transition that 'revolutionary' Cuba is currently making and the activities of his organisation 'Taller Libertario Alfredo López' in Havanna.
Taller Libertario Alfredo López is involved in setting up the Caribian Anarchist Federation: a network of activists and groups from among others the Dominican Republic, El Salvador and Mexico. Besides that they are working on setting up a social center (https://www.gofundme.com/gg2wrcac). There will be room for questions and discussions during the evening.
Amsterdam
Date: Friday 12-08-2016
Time: 19.30 hours
Location: Anarchistische Bilbiotheek, Eerste Schinkelstraat 14-16, Amsterdam
Nijmegen
Date: Wednesday 17-08-2016
Time: 20:00 hours
Location: de Klinker, van Broeckhuysenstraat 46, Nijmegen