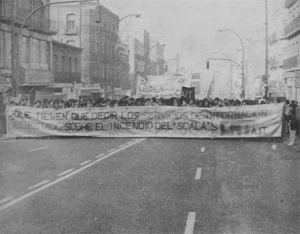 On January 15, 1978 during a general strike in Barcelona, Spain, a building arson to Scala (event venue) resulted in the deaths of four people (members of CNT). Five teenagers (also members of CNT) served 5 months to 17 years in prison for the arson. The consequences of this incident was the low popularity and mass distrust of CNT. An additional result was the premature conclusion of the wave of protests against the government financing trade unions and thus making them dependent to the government.
On May 5, 2010, the first major general strike since the beginning of the crisis against austerity measures took place in Greece and it was marked by the tragic death of three bank employees in Athens who were trapped by their manager in a burning building. Thodoris Sipsas, a comrade in Greece, is accused for murdering those three people with photos, videos and testimonies clearly showing he wasn't even close to the scene of the attack. His trial is to take place in December 2014.
Terms such as "collateral damage" or "unfortunate incidents" can never justify the deaths of people. However, we cannot remain silent while it is those who fight against State and Capital that are being portrayed as the greatest threat to society by the mass media in their attempt to discredit all social resistance.
There will be short introductions about the two incidents which will be followed by a discussion with the topics:
– How narratives in terms of innocence and guilt get used by people and/or groups who would otherwise reject them
– The fight in the media, diy or not: social and political impact of news stories and how to challenge the norm
– Internalizing imagined political communities: i.e. how groups and people with similar political stance end up feeling and/or held accountable for the actions of others
– The reasoning behind direct action
On Saturday November 22nd 19:00 we will host a benefit night to raise money for Thodoris Sipsas and other fighters for social justice, targeted by the Greek state. We will not allow resistance to be silenced!
Join us at 19:00
(for the discussion and soup)
Anarchistische Bibliotheek
Eerste Schinkelstraat 14-16, Amsterdam
For those who are not able to come to the event but still want to support those persecuted for their dedication to the fight for freedom and equality, you can transfer money to the AGA bank account with the description "Sipsas benefit".
rekeningnummer: NL28 INGB 0006 436436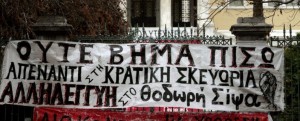 Not a single step back against the state's scheme
Solidarity with Thodoris Sipsas