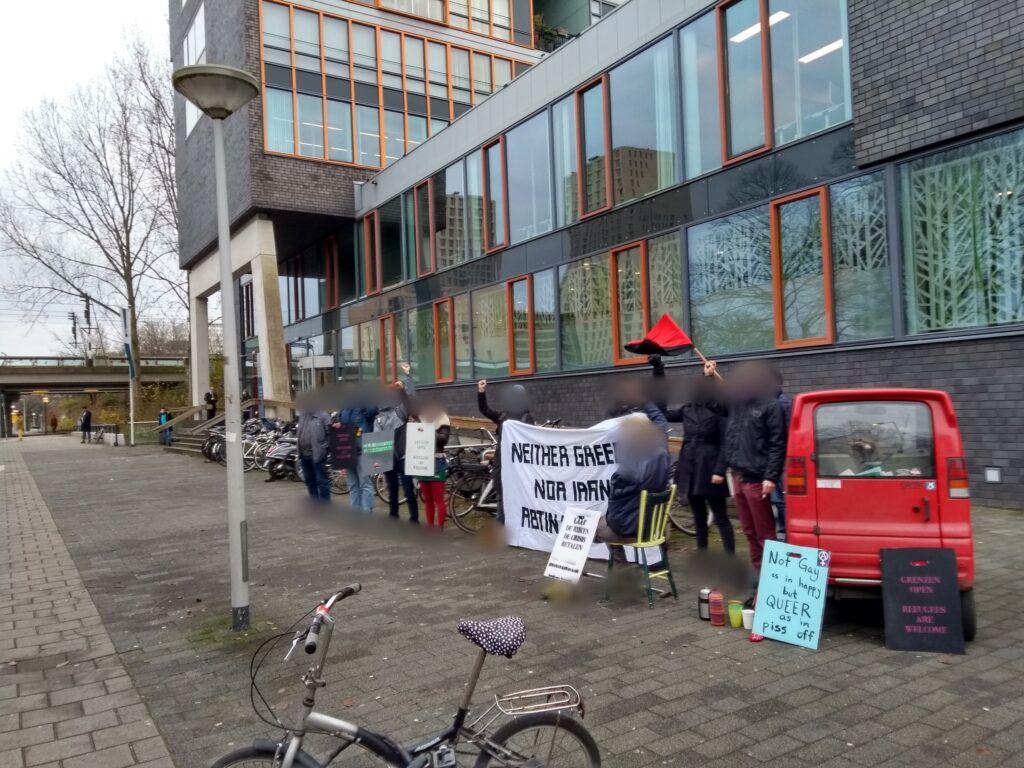 Dit protest was georganiseerd in solidariteit met Abtin Pasra, een anarchist uit Iran die vervolgd word door de Griekse en Iraanse staat , zie hier de oproep:
https://www.agamsterdam.org/open-call-for-the-protest-gathering-in-solidarity-with-the-persecuted-anarchist-abtin-parsa-in-front-of-ind-office/


Op dinsdag 8 december werd er om 14 uur verzameld bij het IND kantoor op de Pieter Callandlaan 1 te Amsterdam. We stonden daar met pamfletten, spandoeken en protestborden en een enkele zwart/rode vlag. We waren omdat moment met dik 10 personen aanwezig. Na enkel minuten komen er 2 smeris op de fiets aan, 1 is de buurt smeris van politiebureau Postjesweg en maakt eigenlijk meteen duidelijk dat het protest niet is aangemeld en dat het verboden is en dat iedereen een boete kan krijgen van 250 euro. We konden het rekken door te melden dat we het zouden overleggen met elkaar wat we zouden gaan doen. De smeris vertrok maar bleef in de buurt. Van dat moment hebben we gebruik gemaakt om verder pamfletten uit te delen en door te gaan met met protest. Wel werd er tegen elkaar gezegd dat de smeris het meent en dat er zeer waarschijnlijk problemen gaan komen.
Na 15 minuten was de smeris terug en melde wij aan hen dat we zouden opbreken als protest en ieder zijn weg zou gaan. Daar dacht de smeris toch anders over, een bewaker van het IND gebouw had de smeris aangesproken en was aan het wijzen naar enkele in onze groep, waar het over ging was onduidelijk. Mensen maakte aanstalten om weg te gaan maar de smeris begon mensen in de groep lastige te vallen. Waarom was onduidelijk. Ondertussen waren er meer mensen gearriveerd en waren we met een kleine 20 mensen.
Het lastig vallen van kameraden werd natuurlijk niet op prijs gesteld en er was wat heen en weer geduw en getrek. Nadat het was gestopt en meerdere mensen weg aan het gaan waren sprong de smeris op de fiets en samen met een motor smeris gingen ze er snel vandoor. Omdat wij het niet vertrouwende gingen we achter ze aan, en om de hoek, 150 meter verder heeft de smeris 2 mensen teen de grond gegooid en is bezig ze te arresteren. Al snel is er nog meer smeris en ook meerdere buurtbewoners beginnen zich er mee te bemoeien en hebben kritiek op de hardhandige arrestatie. Ook nu zijn er weer duw en trek partijen en loopt het aardig uit de hand, en word er nog een 3de persoon opgepakt. Op dit moment zijn er een 8 tal politie agenten en meer zijn onderweg, het is onduidelijk of er een "assistentie collega" is uitgeroepen.
De overgebleven groep word de straat uit geduwd en besluit dan ook zelf om ieder zijn weg te gaan.
s'Avonds rond 7 uur word de eerste arrestant vrijgelaten en de uren daarop de andere 2. Er is geen boete gegeven, of een dagvaarding mee gegeven. De aanklacht werd mondeling gemeld dat ze waren opgepakt voor belediging. Alle 3 zijn geïdentificeerd, de laatste is kort in vreemdelingen detentie geweest maar wisten haar indentiteit toch te achterhalen en werd daarna vrij gelaten.
We, de Anarchistische Groep Amsterdam, hadden bewust niet dit protest aangemeld bij de gemeente Amsterdam. Wij gingen er van uit dat er sowieso nooit toestemming gegevens ging worden om voor het IND kantoor een protest te houden. Ook zint het ons totaal niet om protesten, demonstraties e.d aan te vragen en zo toestemming te krijgen van de staat of je wel of niet mag protesteren en hoe je dat dan moet doen. Ook hadden we verwacht dat er minder mensen zouden komen, want doordeweeks om 2 uur hebben mensen vaak andere dingen te doen (werk / studeren) en was de inschatting dat we met een kleinere groep er wel mee zouden wegkomen. Helaas niet dus. waar we wel rekening mee (ge)houden hebben is dat er veel politie is in Amsterdam er is een flinke overcapaciteit omdat de smeris in corona tijd amper iets te doen heeft en vooral druk is met het beboeten van jongeren die een feestje thuis houden. Dit terwijl de winkelstraten, winkels, bedrijven en distributie centra overvol zijn ten tijde van deze pandemie. Door de grote hoeveelheid smeris in Amsterdam kan er snel en agressief gehandeld worden en kunnen er in een zeer korte tijd veel politie bij elkaar worden gebracht en zijn wij vogelvrij.
We hebben al eerder geschreven over het organiseren van protesten in een corona pandemie en wat de mogelijkheden zijn is een proces van vallen en opstaan en door collectieve actie moeten we uiteindelijk een praktijk zien te vinden.
https://www.agamsterdam.org/verslag-van-protest-in-solidariteit-met-de-anarchist-abtin-parsa/
Door de gebeurtenissen van dinsdag 8 december zijn we alleen meer overtuigd van het nut en belang van Directe Acties. In solidariteit met hen die zich verzetten tegen staat en kapitaal, overal en altijd !
Anarchistische Groep Amsterdam / Vrije Bond