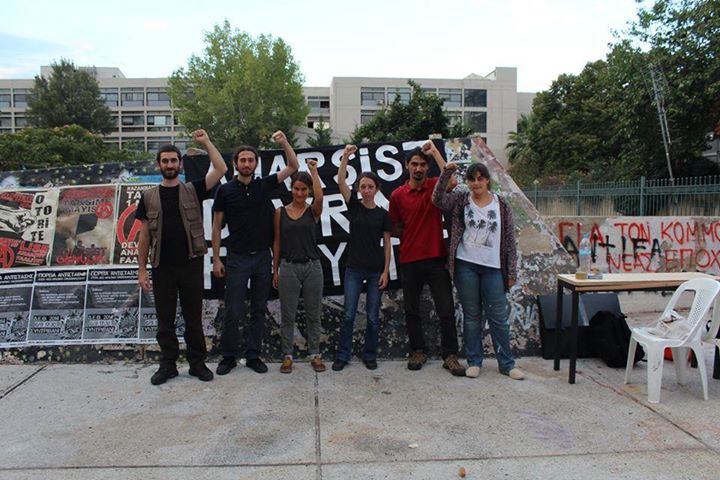 DAF solidarity bar at the Anarchist Library! Come drink beer for the cause, Saturday September 17 from 18:00 to ~23:30. Beer 1,50 euro all proceeds go to the DAF in Trukey.
Aanstaande zaterdag soli-bar in de Anarchistische Bibliotheek! Kom bier drinken voor het goede doel. Zaterdag 17 september van 18:00 tot 23:30. Bier 1,50, alle opbrengsten gaan naar DAF.
Zie flyer hieronder:
Revolutionaire Anarchistische Actie (DAF) en de politieke zuiveringen in Turkije
De afgelopen jaren is de DAF zeer nauw betrokken geweest bij gevechten in en om Turkije zoals bij de Gezi Park opstand, het revolutionair proces in Rojava, de strijd voor gelijkwaardigheid van de LGBTQ beweging en de strijd in Barkoer (in het zuidoosten van Turkije) en bij de steun voor vluchtelingen uit Syrië. Bij het netwerk zijn collectief beheerde hostels, cafés en kantoren aangesloten, die laatste mede gefinancierd door de verkoop van de veel gelezen en breed gedistribueerde Meydan krant.
Door hun activisme is de organisatie verschillende keren het onderwerp geweest van politie onderzoek en heeft de Turkse overheid hen in 2010 en 2013 proberen te kwalificeren als terroristische organisatie, maar beide werden de zaken geseponeerd.
Nu, na de staatsgreep van de AK-partij, de afgekondigde noodtoestand en de politieke zuivering van Turkije, ligt de situatie anders. Leden van de DAF dreigen te worden gearresteerd en beschuldigd van hoogverraad, een beschuldiging waar binnenkort mogelijk de doodstraf op staat. Op dit moment is de organisatie gedwongen (nog meer) ondergronds te gaan. De Meydan krant is door de overheid in beslag genomen en opgeheven. Hierdoor is een belangrijke bron van inkomsten die gebruikt werd om hun netwerk van kantoren door het hele land te betalen, opgedroogd.
De anarchisten in Turkije hebben deze inkomsten hard nodig om weerstand te kunnen bieden aan de golf van repressie die de Turkse overheid nu los laat op alle anarchistische, socialistische en democratische bewegingen in dat land. Direct geld overmaken op rekeningen in Turkije is gevaarlijk en heeft grote kans te worden geconfisqueerd. In de afgelopen jaren heeft de Internationale Federatie van Anarchisten goede contacten op gebouwd met activisten in Turkije, zij kunnen het geld persoonlijk bij hen krijgen Als je een bedrag kunt missen of (beter nog) een benefiet organiseert doneer dan aan:
Société d'Entraide Libertaire (SEL)
IBAN FR76 1027 8065 9000 0205 7210 175 / BIC CMCIFR2A
O.v.v. Devrimci Anarsist Faaliyet
Steun de anarchistische beweging in Turkije! Tegen de repressie van de Turkse staat, voor radicale gelijkwaardigheid!