AGA neemt je mee naar de Spaanse warmte!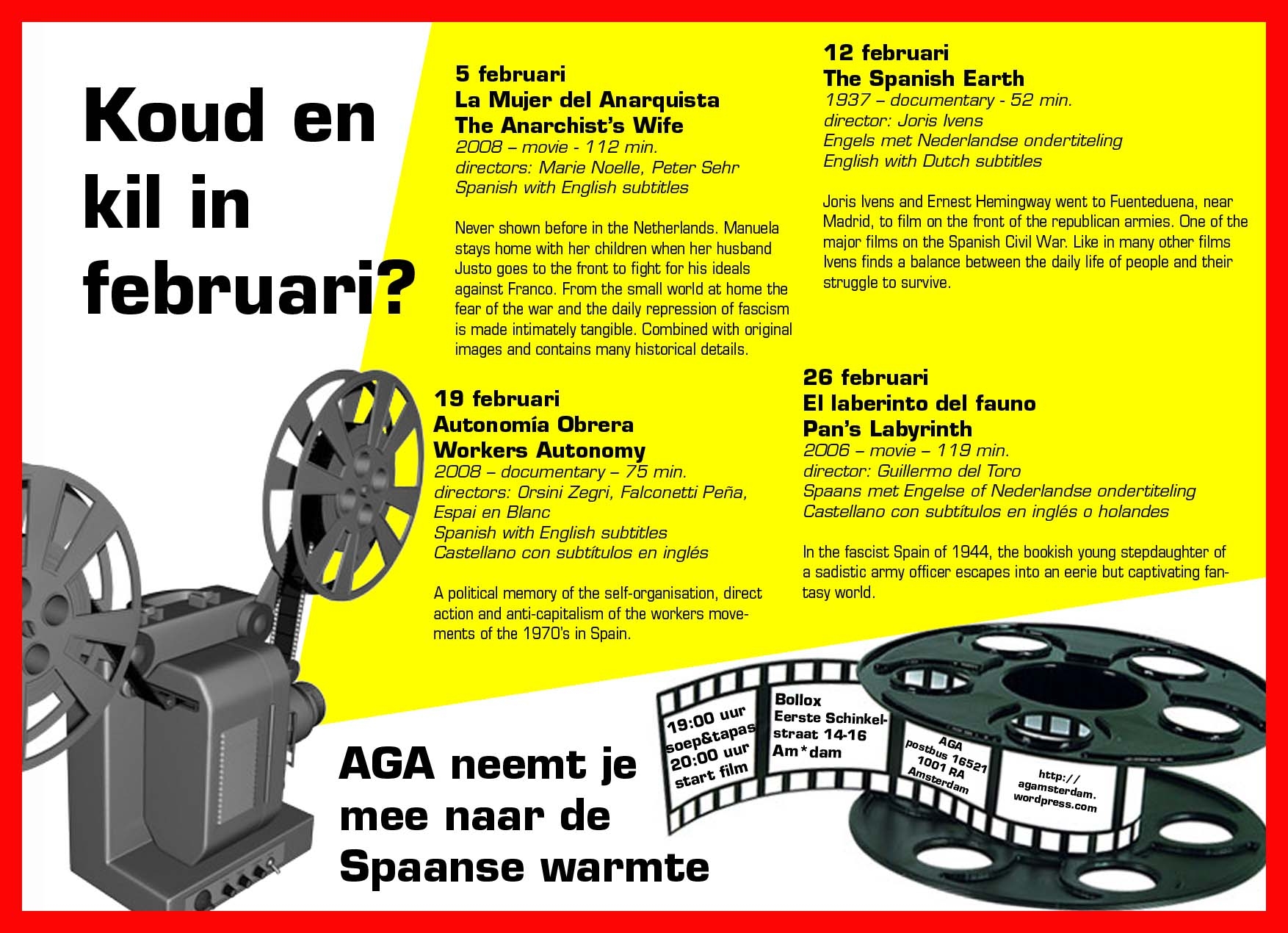 Start films 20:00 uur
Vanaf 19:00 uur is er soep en tapas
Anarchistische Bibliotheek, Eerste Schinkelstraat 14-16, Amsterdam
5 februari
La Mujer del Anarquista  The Anarchist's Wife
2008 – movie – 112 min.   directors: Marie Noelle, Peter Sehr
Spanish with English subtitles
Castellano con subtítulos en inglés
Never shown before in the Netherlands. Manuela stays home with her children when her husband Justo goes to the front to fight for his ideals against Franco. From the small world at home the fear of the war and the daily repression of fascism is made intimately tangible. Combined with original images and contains many historical details.
12 februari
The Spanish Earth
1937 – documentary – 52 min.   director: Joris Ivens
Engels met Nederlandse ondertiteling
English with Dutch subtitles
Joris Ivens and Ernest Hemingway went to Fuenteduena, near Madrid, to film on the front of the republican armies. One of the major films on the Spanish Civil War. Like in many other films Ivens finds a balance between the daily life of people and their struggle to survive.
19 februari
Autonomía Obrera-Workers Autonomy
2008 – documentary – 75 min.
director: Orsini Zegri, Falconetti Peña, Espai en Blanc
Spanish with English subtitles
Castellano con subtítulos en inglés
A political memory of the self-organisation, direct action and
anti-capitalism of the workers movements of the 1970's in Spain.
26 februari
El laberinto del fauno
Pan's Labyrinth
2006 – movie – 119 min.
director:Guillermo del Toro
Spaans met Engelse of Nederlandse ondertiteling
Castellano con subtítulos en inglés o holandes
In the fascist Spain of 1944, the bookish young stepdaughter of a sadistic army officer escapes into an eerie but captivating fantasy world.