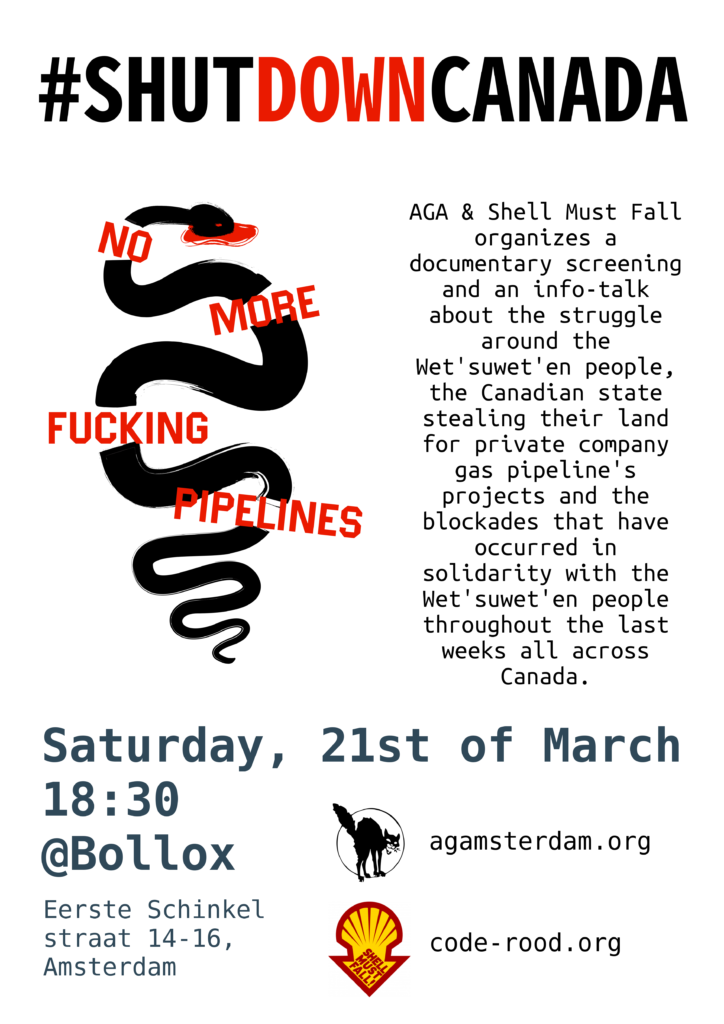 THE EVENT IS CANCELLED
Due to the corona situation, we've decided to cancel this event.
Sorry for the inconvenience.
Since  beginning of early February a political movement has flourished in Canada known as #shutDownCanada.A different set of large demonstrations and massive blockades have taken place all across Canada, creating huge disturbance in the train lines and gathering thousands of demonstrators in the streets.This diverse actions are a reaction against the Canadian state after it accomplished its threats and stole land from the indigenous Wet'suwet'en people in order execute its plans to destroy the environment by building pipelines through the territory of this native American nation.

On the 21st of March, we are organizing an info-talk about #shutDownCanada, during the event will look at the origins of this struggle, the events that took place on the 5th of February at the Unist'ot'en camp and the subsequent reactions and uprising that spread across the country immediately after.

The event will be co-hosted with a member of Shell Must Fall whom will shed light over this political organization, its origins, the different actions made by their members and the future of the environmental organizations around the world as well as the actions that the civil society must take into action in order to stop the climate butchery.
See you all:When: Saturday the 21st of March at 18:300.Where: @ Bollox, Eerste Schinkelstraat 14, 1075TX Amsterdam, Netherlands