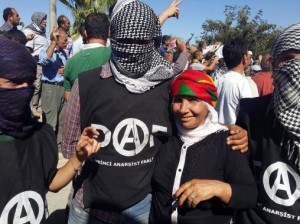 Beste leden van de Vrije Bond en andere geïnteresseerde (doorsturen is gewenst)
Betreft geld inzameling voor D.A.F. (Revolutionair Anarchistisch Front) Turkije i.v.m. actieve solidariteit rond Kobane in Syrië.

De solidariteitskas van de Vrije Bond heeft vandaag 500 euro (9-10-2014) overgemaakt naar de anarchistische organisatie D.A.F Devrimci Anar?ist Faaliyet (Revolutionair Anarchistisch Front). Door de loop der jaren zijn er verschillende ontmoetingen geweest tussen Nederlandse anarchisten (en Vrije Bond leden) en mensen van de D.A.F. De ervaring om met hen te spreken en te leren kennen, hebben altijd bijgedragen aan de overtuiging dat de kameraden van de D.A.F. zeer betrouwbaar zijn en zeer toegewijd aan de anarchistische zaak zijn.
Het duurde dan ook niet lang dat onze kameraden van de DAF zich zouden mengen in het conflict rond de stad Kobane op de Turkse Syrische grens, dat op dit moment al weken wordt belegerd door milities van de I.S. (Islamitische Staat). Het geval wil dat anarchisten, revolutionaire linksen, koerden en andere groepen en individuen een autonome grenswacht hebben gevormd om mogelijke IS strijders te stoppen om vanuit Turkije naar Syrië te gaan. Ze proberen ook goederen voor de IS en de olie handel vanuit Syrië naar Turkije tegen te houden. De I.S. heeft grote olievoorraden en raffinaderijen in handen en financiert zo de oorlog.
Het tweede doel is om als waarnemer de Turkse politie, leger en douane te observeren en daarover te rapporteren wanneer die weer IS strijders toe laat vanuit Turkije, Syrië in. Dit is al meerdere malen aantoonbaar gebeurt. De politie en leger zitten niet te wachten op pottenkijkers en er zijn dagelijks rellen en botsingen met de waarnemers, Koerdische bewoners van de regio en andere solidaire groepen. Het lukt soms om grensovergangen te doorbreken of te bestormen zodat vluchtelingen vanuit Syrië Turkije in kunnen gaan en Koerdische strijders vanuit Turkije zich kunnen aansluiten bij de vechtende Koerdische milities zoals de JPG, gemengde Koerdische milities verbonden aan de PKK en de YPJ, milities die alleen bestaan uit vrouwen, ook verbonden aan de PKK.
De DAF heeft geld nodig om daar ter plekke direct hulp en ondersteuning te verrichten. Denk aan voedsel, medicijnen en andere hulpgoederen, maar ook communicatie apparatuur, scanners (om radio verkeer van leger en politie te luisteren), porto's, telefoonkaarten, foto en videoapparatuur. Vervoer vanuit Turkije naar de grens moet gefinancierd worden, zodat een steeds nieuwe aanwas van mensen aan de grens druk kan uitoefenen op politie en leger.
Wij als anarchisten voelen ons diep verbonden met de kameraden in Turkije en de Koerdische regio's en  we willen een daad stellen tegen deze wereld van apathie en onverschilligheid. Daarom roepen wij een ieder op om geld te doneren voor de DAF of initiatieven te nemen om geld in te zamelen. Wij stellen de rekening van de Vrije Bond open voor een ieder die solidair is. Zodra er een aanzienlijk bedrag is maken wij dat direct over aan de DAF, bedragen die later binnen komen zullen later op plek van bestemming komen. De eerste 500 euro is al gearriveerd in Turkije.
Dus stort op:
IBAN: NL80INGB0005495473
BIC/Swift: INGBNL2A
T.n.v. Vrije Bond
te Amsterdam
o.v.v. : DAF
Er is de afgelopen dagen intensief contact geweest met de kameraden van de DAF en hieronder is een email die we vannacht hebben ontvangen, geen tijd voor vertaling, dus in het Engels.
Revolution will win in Kobanê!
Our Comrades in Boydê Village Reports:
It?s the 24th day of ISIS attacks on Kobanê. While people?s defending forces in all border villages are on human shield sentry for Kobanê against attacks, everyone, everywhere in the region we live, rised up not to let Kobanê fall.
We have been on human shield sentry for around three weeks in Boydê village west of Kobanê. In the last two days, explosions and sounds of clashes got intense in Kobanê?s outer districts and town center. During this period of intense clashes, military forces increased their attacks on human shield sentries at border villages. Soldiers of Turkish State has been attacking with gas bombs to those who approach the border from both sides, including the village that we are in, which was attacked on Tuesday. Soldiers also used live ammunition from time to time in their attacks and wounded people.
These attacks on border villages especially mean that ISIS forces are allowed passage through the border. Republic of Turkey?s support to ISIS is clearly visible here as it is there. Of course that?s not the only thing that is clear. We have learned that one of the ISIS leaders commanding the attack on Kobanê got killed by YPJ/YPG forces. Meanwhile clashes today are as intense as before and continued all day long. Sounds of clashes almost never stopped today. However now we know that explosions are made by YPJ/YPG forces. It?s reported that YPJ/YPG forces tactically emptied the streets of Kobanê at town center and ambushed ISIS, neutralizing them with successful tactics.
Everyone?s excited by what?s told at village meetings; one of them is ISIS? fear of women guerillas. ISIS represents the state, the terror, the massacre and also the patriarchy of course. Because of their belief that they cannot be so-called ?martyrs? when they get killed by a women guerilla, a YPJ fighter, they are scared of encountering YPJ forces. Because when they encounter them, the women who ?fight? against them show no mercy to the ISIS lot. This is the freedom against patriarchy created by YPJ fighting.
The rebellion that rises in all of Kurdistan and all cities of Anatolia in the last two days, makes us feel the invincibility of organized people. These rebellions increase the confidence in revolution for everyone in Kobanê, in villages at Kobanê border, and in all of Rojava. Whenever a sister or brother falls, although we feel the sorrow, it intensifies everyone?s anger and power here. Requiems that start with hitting on knees turn into halay dance with feet kicking fast and strong enough to crack the earth. Thus our sorrow bursts into anger, fast and strong.
This is just what everyone needs here. For the freedom and revolution that?s craved, despite everything.
Long live the People?s Kobanê Resistance!
Long live the People?s Rojava Revolution!
Long live our Revolutionary Anarchist Action!
Als aanvulling nog drie links (helaas facebook)
DAF met dagelijkse updates, soms in het Engels: https://www.facebook.com/anarsistfaaliyetorg
Anarchistische vrouwen organisatie, verbonden met de DAF: https://www.facebook.com/anarsistkadinlariz
De facebook van de Ierse Workers Solidarity Movement (anarchistische organisatie), hebben Turkse leden en vertalen vrije snel dingen naar het engels: https://www.facebook.com/WorkersSolidarityMovement