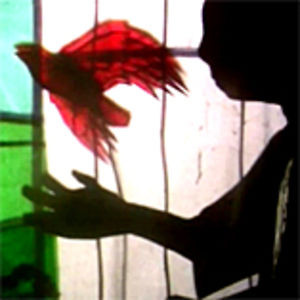 The Vrije Bond and the Pinksterlanddagen present: 'PRISON?'
A play written and performed by Charlie Ryder.

[Nederlands onderaan]

The month of May AGA will be hosting PRISON?. The play featured previously at the Anarchist Book Fair in Bristol and will now be performed at this years Pinksterlanddagen. But before that time we've organised a show in Amsterdam on Wednesday, May 15 at the OCCII, so come check it out!
'PRISON?'
A play written and performed by Charlie Ryder.
This is a true story which is creatively told using a variety of theatrical devices including puppetry, masks, physical theatre and dance.
In October 1993 Charlie Ryder took part in a demonstration to shut down the BNP headquarters in Welling, south-east London. This developed into a serious riot, and a few months later he was featured on the TV show Crime Monthly.
He was arrested and after a two year wait was sent to prison for 16 months. In prison Charlie kept a scrapbook to record poems, letters and art work. Charlie, not a professional actor but an open and impassioned performer, has brought the scrapbook to life as a full production.
What does going to prison really entail? 'PRISON?' gives a rare and honest insight into the prison system, putting a face to what is often the faceless idea of 'the prisoner'. The
play is in English.
Entry is free, donations are appreciated.
Wednesday May 15,
OCCII, Amstelveenseweg 136
Doors: 8 pm, start: 8:30 pm
[Nederlands]
In mei host de AGA een toneelstuk in de OCCII. Het stuk is eerder opgevoerd op de Bristol Anarchist Book Fair en zal nu ook op de Pinksterlanddagen te zien zijn. Woensdag 15 mei wordt het opgevoerd in Amsterdam dus kom kijken!
'PRISON?'
Geschreven en gespeeld door Charlie Ryder.
In oktober 1993 nam Charlie Ryder deel aan een demonstratie in Welling, in het zuidoosten van Londen, om het hoofdkwartier van een Britse nazi partij (British National Party) te sluiten. De demonstratie werd door de politie aangevallen en mondde uit in een flinke rel.
Een paar maanden later zag Charlie beelden van zichzelf terug in een van Groot-Brittannië's meest bekeken tv-shows 'Crime Monthly'. Hij werd gearresteerd en, na een periode van 2 jaar, veroordeeld tot 16 maanden cel. In de gevangenis verzamelde hij brieven, gedichten en tekeningen in een dagboek. Samen vormen ze de basis van deze theatervoorstelling.
Wat houdt naar de gevangenis gaan eigenlijk in? In 'PRISON?' maakt Charlie Ryder het
traumatiserende en dehumaniserende effect van de gevangenis en haar standaard procedures zichtbaar. Door gebruik te maken van poppen, dans en maskers verteld hij zijn persoonlijke verhaal en geeft hij een inkijkje in het verrotte gevangenissysteem. Het stuk is (Brits) Engels gesproken!

Toegang is gratis, donaties zijn welkom.
Woensdag, 15 mei
OCCII, Amstelveense weg 134
Deuren open: 20:00, aanvang: 20:30