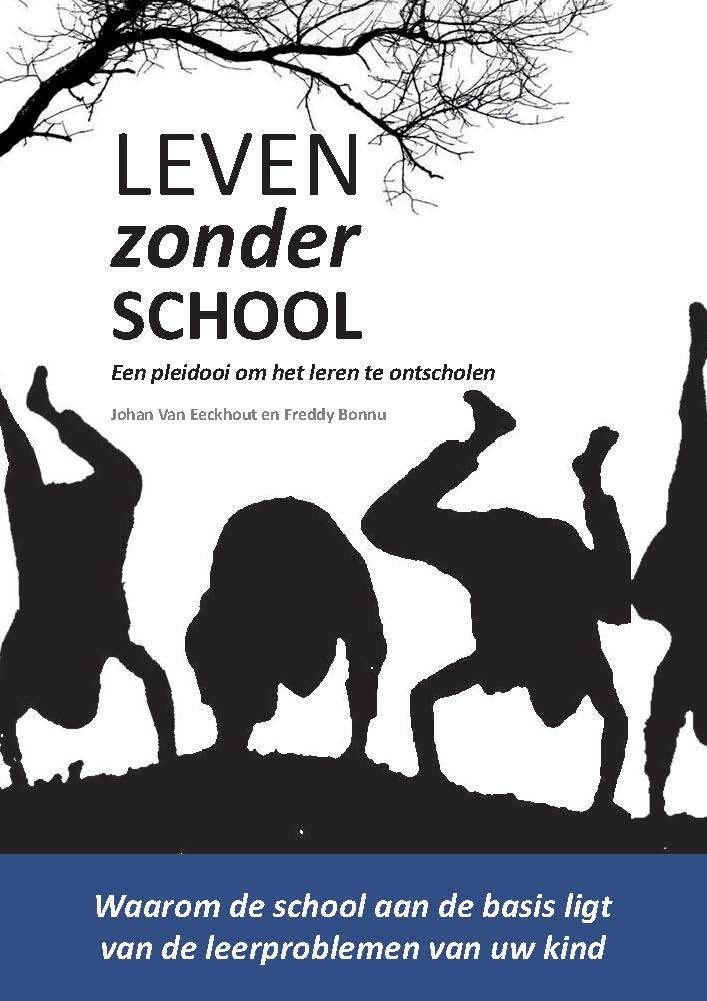 Radar: https://squ.at/r/6er5
Wanneer: Zaterdag 8 december 2018
Waar: MKZ, Eerste Schinkelstraat 16, Amsterdam
Open: 14:00, start lezing 14:30, eten 17:30
Prijs: donatie
Voertaal: Nederlands
Vragen: neem contact op via redactie@buitendeorde.nl
School, en je kinderen daar naartoe brengen, lijkt ook voor veel
maatschappijkritische personen een redelijk vanzelfsprekend gegeven.
Terwijl deze mensen ten aanzien van andere politieke thema's wel minder
voor de hand liggende keuzes maken lijkt het uitbannen van school daar
niet toe te behoren. Maar wat is school en in het verlengde daarvan,
opvoeding eigenlijk, en waarom sturen we kinderen ernaartoe? En wie
heeft bepaald wat daar geleerd wordt, en hoe?
Freddy Bonnu en Johan Van Eeckhout hebben over deze vragen een boek
geschreven. Freddy kiest ervoor zijn kinderen niet naar school te sturen
en vertelt hoe hij daar mee omgaat. Het boek is dus niet een volgende
toevoeging aan de vele, wellicht zinnige pogingen tot schoolhervorming,
zoals die van Maria Montessori, Rudolf Steiner, Kees Boeke, Francisco
Ferrer of A.S. Neill. Het boek gaat over vragen als: Waarom zetten we
kinderen weg als een aparte categorie mensen, die niet volwaardig mogen
deelnemen aan de maatschappij? Waarom worden kinderen gedwongen om hun
dagen te spenderen in aparte gebouwen en gesegmenteerde groepen? Volgens
tijden en schema's die door een ander bepaald worden? Terwijl ze, net
als de categorie 'volwassenen', als ze daar de tijd, ruimte en
ondersteuning voor krijgen, perfect in staat zijn zich te ontwikkelen
volgens hun eigen interesses, schema's en behoeftes.
Ondanks alle mensen die zich een fijne schooltijd herinneren, en ondanks
alle gepassioneerde leraren, zijn er ook de uitgebluste leraren en
inmiddels ontelbare 'leerstoornissen', die aan kinderen worden
toegeschreven maar eigenlijk beter te begrijpen zijn als stoornis van
het schoolsysteem. School heeft iets weg van andere negentiende-eeuwse
instituties waarvan we ons nog altijd aan het bevrijden zijn, zoals
gendernormen, rassentheorie of gevangenissen: het willen controleren van
het oncontroleerbare, het willen indelen in hokjes van dat wat fluïde
is, het willen scheiden van wat bij elkaar hoort.
Daarom zijn we heel blij dat dit boek is geschreven: voor mensen met
kinderen, die voor keuzes rond school en opvoeding staan, voor iedereen
die tegen onderdrukkende systemen en voor vrijheid voor iedereen is.
Na de presentatie is er ruimte voor discussie en gesprek met auteur
Freddy Bonnu en om 17:30 is er vegan eten.