Wenüy
Voor de rebellerende herinnering aan Santiago Maldonado
Door kameraden uit Argentinië.
De presentatie is in het Engels, het boek is in het Spaans.
(English below)
Maandag 28 januari 2019
Aanvang 19:30 presentatie 20:00
In de Anarchisitische Bilootheek – Bollox
Adres: Eerste Schinkelstraat 14-16 Amsterdam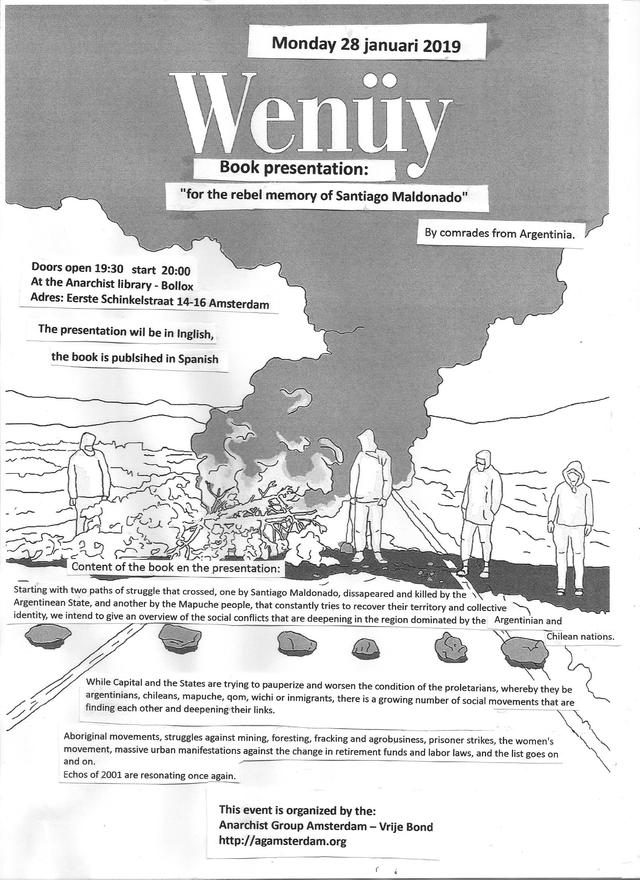 Twee wegen van strijd die elkaar kruisten, de eerste van Santiago Maldona, gekidnapt en vermoord door de Argentijnse staat, en de tweede strijd, van de Mapuche bevolking. De strijd van de Mapuche tegen de vernietiging van hun leefgebied en identiteit.
We proberen een overzicht te geven van de intense sociale strijd die plaatsvind in de regio's van Argentijnse en Chileense staat.
Terwijl kapitaal en de staat probeert iedereen te verarmen en de positie van het proletariaat nog slechter te maken, waar geen verschil word gemaakt tussen Argentijnen, Chilenen, Mapuche, Qum, Wichi of migranten, is het verzet daartegen aan het groeien in verschillende sociale bewegingen die elkaar vinden en banden sterk worden aangehaald.
Inheemse bewegingen, strijden tegen mijnbouw, ontbossing, fracking en Agro-industrie, gevangenen-stakingen, de vrouwen beweging, gigantische stedelijke manifestaties tegen pension hervorming en afbraak van rechten van werkers, en de lijst gaat door en door.
Echo's uit 2001 trillen door naar nu.
Deze avond is georganiseerd door de:
Anarchistische Groep Amsterdam – Vrije Bond
http://agamsterdam.org
——————————————————————————————————————————————————–
Monday 28 januari 2019
Book presentation:
twenüy
"for the rebel memory of Santiago Maldonado"
By comrades from Argentinia.
Doors open 19:30 start 20:00
At the Anarchist library – Bollox
Adres: Eerste Schinkelstraat 14-16 Amsterdam
The presentation wil be in Inglish, the book is publsihed in Spanish
Content of the book en the presentation:
Wenüy
"for the rebel memory of Santiago Maldonado"
Starting with two paths of struggle that crossed, one by Santiago Maldonado, dissapeared and killed by the Argentinean State, and another by the Mapuche people, that constantly tries to recover their territory and collective identity, we intend to give an overview of the social conflicts that are deepening in the region dominated by the Argentinian and Chilean nations.
While Capital and the States are trying to pauperize and worsen the condition of the proletarians, whereby they be argentinians, chileans, mapuche, qom, wichi or inmigrants, there is a growing number of social movements that are finding each other and deepening their links.
Aboriginal movements, struggles against mining, foresting, fracking and agrobusiness, prisoner strikes, the women's movement, massive urban manifestations against the change in retirement funds and labor laws, and the list goes on and on.
Echos of 2001 are resonating once again.
This event is organized by the:
Anarchist Group Amsterdam – Vrije Bond
http://agamsterdam.org