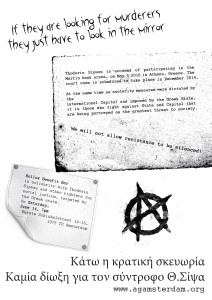 In the past few years, the Greek state has become a state of emergency that aims to repress those who resist policies of increasing austerity and social segregation. Police raids, investigations and the host of false charges constitute an endless witch-hunt that targets anarchists and anti-authoritarians in particular.
On May 5, 2010, the first major general strike since the beginning of the crisis against austerity measures took place in Greece and it was marked by the tragic death of three bank employees in Athens who were trapped by their manager in a burning building.
A year later, four people were called to testify as witnesses for this arson; a legal trick, already targeting them as suspects. However, they were soon released due to lack of evidence. Ever since, but without any additional evidence, the case has been used to detain anarchists and anti-authoritarians without any connection to the case whenever the government needed to create a spectacle to relocate the public attention from catastrophic economic policies and totalitarian politics.
On May 5th 2013, despite photo's, videos and testimonies clearly showing that Thodoris Sipsas was not even close to the scene of the attack, he was accused of participating in the Marfin bank arson. Awaiting the court case scheduled to take place in December 2014, Thodoris Sipsas is now released on bail.
Terms such as "collateral damage" or "unfortunate incidents" can never justify the deaths of people. But at the same time as austerity measures were dictated by the international Capital and imposed by the Greek State, ravaging the Greek society through growing inequality and social segregation, it is those who fight against State and Capital that are being portrayed as the greatest threat to society by the mass media in their attempt to discredit all social resistance.
On Saturday June 14, we will host a Benefit Bar to raise money for Thodoris Sipsas and other fighters for social justice, targeted by the Greek state. We will not allow resistance to be silenced!
Fight capitalism! For a world of equality, solidarity and freedom!
June 14, 19:00
Anarchistische Bibliotheek
Eerste Schinkelstraat 14-16, Amsterdam
For those who are not able to come to the event but still want to support those persecuted for their dedication to the fight for freedom and equality, you can transfer money to the AGA bank account with the description "Solidarity benefit".
rekeningnummer: NL28 INGB 0006 436436