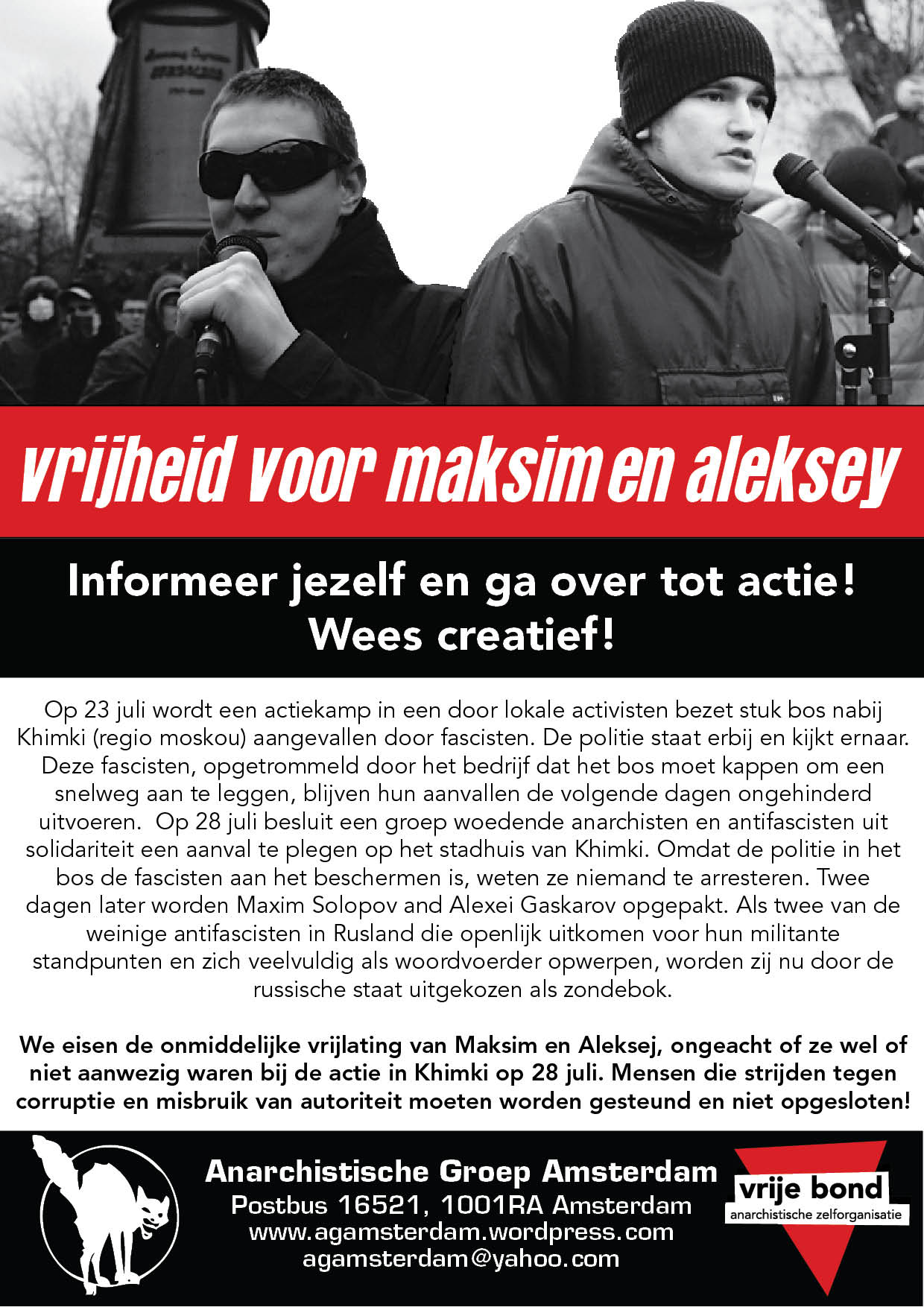 Op 23 juli wordt een actiekamp in een door lokale activisten bezet stuk bos nabij Khimki (regio moskou) aangevallen door fascisten. De politie staat erbij en kijkt ernaar. Deze fascisten, opgetrommeld door het bedrijf dat het bos moet kappen om een snelweg aan te leggen, blijven hun aanvallen de volgende dagen ongehinderd uitvoeren. Op 28 juli besluit een groep woedende anarchisten en antifascisten uit solidariteit een aanval te plegen op het stadhuis van Khimki. Omdat de politie in het bos de fascisten aan het beschermen is, weten ze niemand te arresteren. Twee dagen later worden Maxim Solopov and Alexei Gaskarov opgepakt. Als twee van de weinige antifascisten in Rusland die openlijk uitkomen voor hun militante standpunten en zich veelvuldig als woordvoerder opwerpen, worden zij nu door de russische staat uitgekozen als zondebok.
We eisen de onmiddelijke vrijlating van Maksim en Aleksej, ongeacht of ze wel of niet aanwezig waren bij de actie in Khimki op 28 juli. Mensen die strijden tegen corruptie en misbruik van autoriteit moeten worden gesteund en niet opgesloten!
Informeer jezelf en ga over tot actie!
Wees creatief!
————————————————————————————————————-
Zelf deze poster drukken/kopiëren, klik op -> maksimaleksey
We hebben ruimte gelaten om de naam van je eigen groep, lokaal contact of website te plaatsen.
————————————————————————————————————–
Voor meer info, bekijk ook deze sites:
met adressen lokale magistratuur:
http://chtodelat.wordpress.com/2010/08/02/khimki-territory-of%20lawlessness/
info vanuit autonome hoek:
http://www.avtonom.org/en/node/12853
http://www.avtonom.org/en/node/12872
duidelijk overzicht op libcom
http://libcom.org/news/moscow-khimki-battle-adminstration-heats-01082010
Schrijf protestbrieven naar de russische ambassade:
Andries Bickerweg 2
2517 JP Den Haag
tel 070 346-88-88
tel 070 345-13-00
Fax: 070 361-79-60