Saturday 11 juli 2020
Door open at 19:00 talk 19:30 start
Short talk about Gabriel and the decades long anti prison struggles in Spain of him and others against the FIES system and the prison state in general.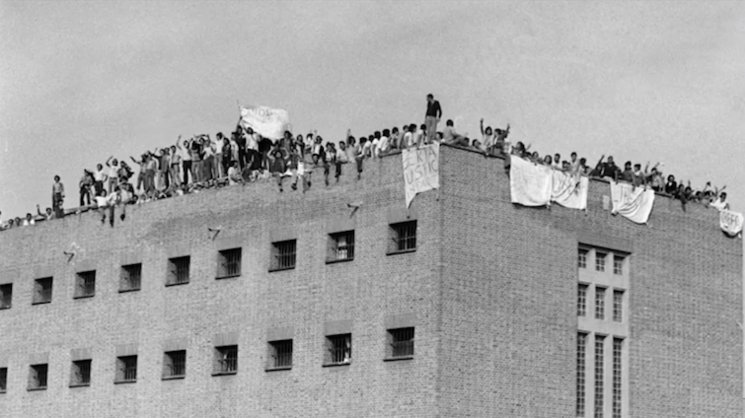 DOCU:
COPEL ( Coordinadora de Presos En Lucha )
A tale of rebellion and dignity.
by: Colectivo COPEL 2018
Spanish and Catalan spoken – English subtitles

The best documentary ever made about the prisoners struggle in Spain in the 70's made by ex members of COPEL, their outside supporters, anarchists, autonomous groups and social movements.

COPEL (Coordinadora de Presos En Lucha) emerged through spontaneous mobilizations by prisoners pushing for the amnesty law of October 1977 to be extended across the prison population; it developed as a rank-and-file body that gave voice and leverage to those excluded from the political process,  and which challenged the State for more than two years, exposing its injustices and the inhumanity of society's punitive machinery.
This documentary, focusing on Franco's and post-Francoist's prisons and the plight of its prisoners, is told by the victims of the regime, activists who lived through those long years of struggle and who are determined to expose the truth about the nature of the regime and its penal system
After the movie there is room for discussion and a drink.
This event has only space for 25 people ! so please send us a email that you gonna attend, and when you cancel please also send us a email so that other comrades can attend
Send email to : aga@agamsterdam.org

Respect Social distancing, Covid 19 is NOT a joke or a conspiracy
Free entrance but, Donations are welcome !!!

This will take place in the OCCII
Amstelveenseweg 134 Amsterdam
occii.org

This event is organized by the:
Anarchist Group Amsterdam – Vrije bond
agamsterdam.org