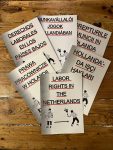 [English below]
Arbeidsrechten – Workers' Rights!
Nieuwe brochure uit. Help mee met verspreiden. De nieuwe update van ons arbeidsrechtenpamflet is uit en nu in nog meer talen beschikbaar dan eerst. Als werknemers zijn we kwetsbaar wanneer we niet goed bekend zijn met onze rechten. Zeker van buitenlandse werknemers in Nederland wordt maar al te vaak misbruik gemaakt. Dit kan liggen aan de moeilijk beschikbare informatie over het Nederlandse arbeidsrecht in talen anders dan het Nederlands. Met dit pamflet hopen we daar verandering in te brengen en solidariteit tussen werknemers aan te moedigen, zodat we ons beter kunnen weren tegen werkgevers die ons proberen uit te buiten. Aarzel daarom niet deze informatie te verspreiden onder je collega's. De hier genoemde rechten zijn alleen onze basisrechten. Als we meer willen bereiken zullen we ervoor moeten vechten!
Online is de brochure in 17 talen te raadplegen via: https://labourrights.vrijebond.org/
Van de meeste talen hebben we ook een oplage gedrukt. Beschikbaar zijn: Nederlands, Engels, Hongaars, Italiaans, Grieks, Pools, Turks, Spaans, Roemeens, Duits, Portugees, Russisch, Slovaaks.

Wil je helpen ze te verspreiden, mail ons dan op: aga@agamsterdam.org
---
Workers' Rights!
New pamphlet out now. Help us spread it.
The new update of our workers' rights pamphlet is out and available in more languages than before. As workers we are vulnerable when we are unfamiliar with our rights. Especially foreign workers in the Netherlands all too often get taken advantage of. This may be due to a lack of available information on basic workers' rights in the Netherlands in languages other than Dutch. With this pamphlet we hope to change that and encourage solidarity between workers, so we can defend ourselves against employers looking to exploit us. Please share its content with your fellow workers. Of course the rights listed below are only our basic rights. We'll have to fight for it if we want more?
The pamphlet can be found online in 17 languages at: https://labourrights.vrijebond.org/
Pamphlets have been printed for most of the languages too. Available are Dutch, English, Hungarian, Italian, Greek, Polish, Turkish, Spanish, Rumanian, German, Portuguese, Russian, Slovak.
Want to help out spreading them, email us at: aga@agamsterdam.org