The program for the film festival is here! Scroll down to find the full list of screening times and descriptions of the films. More detailed info will be published on our newsletter. See you at the festival!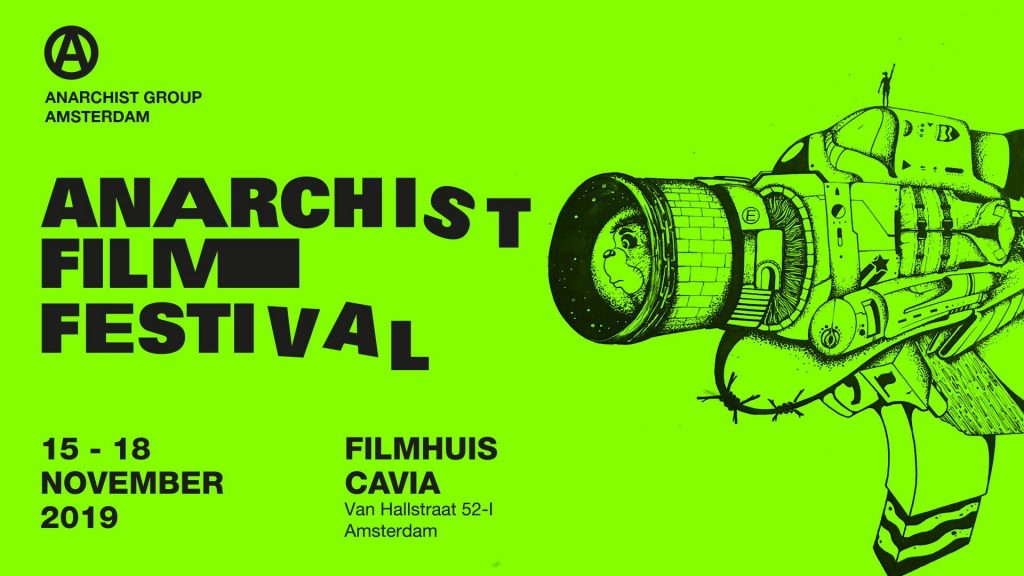 Please join us for our three day Anarchist Film Festival, with a special 6 hour screening on Monday, featuring a broad spectrum of anarchist film, ranging from deceptively childlike animations to in-your-face soft porn, from candid documentaries to surrealist explorations of human nature.
Alongside the movies on Fri/Sat/Sun we will have vegan food and baked goods and merch stands for groups like Abortion Network Amsterdam, the Spanish CNT and the Zapatistas National Liberation Army!

Don't miss out!

///

PROGRAM –

FRIDAY / 15th November
16:00
A self-critical squatting memoire. + Crowbar – French squat documentary.

17:30
Documentary on the Kurdish liberation movement in Bakur. + Distant – The female Kurdish militia defending Kobane against the Isis terrorists

20:30
The story of a police investigation into consensual homosexual sadomasochism.
+
Raspberry Reich – Exploring the innate radical potential of homosexual expression.

/
23:00 MUSIC – MC MUSTAJ

A queer electronic musician and rapper based in Amsterdam, bringing sexy beats, hardcore bass, souly vocals and tight rhymes filled with hope, using music to share, to connect, to dance, to release and as a weapon against the structures of oppression, in particular those of gender and racism, this society is based on.

PARTY – until 1:00

//

SATURDAY / 16th November
12:00
Brazilian documentary and fictional animation on globalization.
14:00
The Fig House – Documentary about a Greek squat for migrants and their cat.

17:00
Hamburger Gitter – G20 documentary.

19:30
A documentary on liberation from colonialism and neocolonialism.

21:30
Thriller: Surrealist existentialism in Franco's Spain.

/
23:30 MUSIC – OUST

Generic pissed off raw punk destruction from Amsterdam and Nijmegen. https://oustpunx.bandcamp.com/releases
PARTY – until 1:00

//

SUNDAY / 17th November
12:00
Homotopia – A love story for radical queers fighting homonormativity + A queer punk SciFi inspiring a generation of feminists.

14:30
Earth liberation front documentary on radical environmentalism.

16:30
Animated comedy-action fantasy film on fighting urban development.

19:30
Lifeboat – A migrant sea rescue documentary.

21:30
An anti-misogynistic Iranian Vampire Western.

//

MONDAY / 18th November
17:00
A historical re-enactment of the radical revolution and extreme heartbreak of the working class in 19th century Paris.

///

Tickets –
€3 – €5 suggested donation. First come, first serve.
All proceeds are going to the Anarchist Defence Fund.
Sign up for a Volunteer shift!
We will be needing a few extra hands during the festival- we might need help with the bar, stands, or a quick trip to the supermarket. Each volunteer will get two free movie tickets!
https://www.signupgenius.com/go/20F0D4DAEAB23A5FB6-anarchist