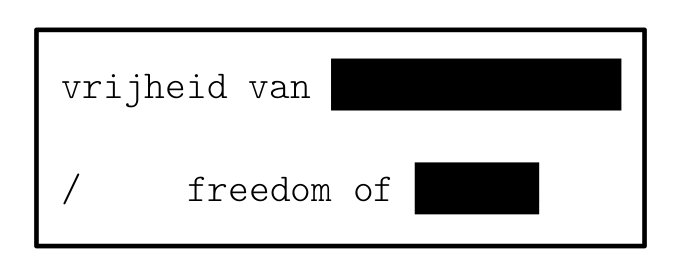 AGA discussieavond: vrijheid van meningsuiting | AGA debate night: freedom of speech
The event below, and therefore the announcement, are primarily in dutch language. Of course, anyone is welcome to attend .
Na een succesvolle eerste versie houdt de anarchistische groep amsterdam een tweede dicsussieavond. Er wordt een presentatie gehouden over het onderwerp, en zowel tijdens als na de presentatie is er ruimte voor vragen, opmerkingen en discussie. De presentatie zal in het nederlands zijn. Op verzoek kan hiervan een engels uittreksel verzorgd worden. De discussie kan uiteraard meertalig zijn.
Introductie
Vrijheid van meningsuiting – bedankt voor het cadeautje!
Dat we onze regering dankbaar moeten zijn voor het feit dat ze ons toestaat, dát te doen, wat menseigen is, namelijk anderen te communiceren, wat we denken en voelen, is eigenlijk wel opmerkelijk. De democratische burger heeft namelijk vastgesteld – en dat wordt hem ook regelmatig verteld – dat de vrijheid van meningsuiting bij veel mensen een niet altijd vanzelfsprekend gegeven is. Mensen die onder een dictatoriaal bewind moeten leven, worden immers vaak door hun regering monddood gemaakt.
Dat ook hier in dit land grenzen aan de vrijheid van meningsuiting worden gesteld, weet ook de kritische democratische burger. Met enige bezorgdheid wijst hij op de discrepantie die mogelijk ontstaat met het verbod op het zaaien van haat en discriminatie. Bovendien waarschuwt hij dat het recht op vrijheid van meningsuiting volgens de standaard van een dubbele moraal gehandhaafd wordt en blijkbaar niet voor alle burgers geldt. "Leve de republiek!" roepen op de Kroningsdag, kan zo te zien niet ongehinderd. Maar daarmee heeft deze kritische burger nog lang niet begrepen onder welke voorwaarden het hoogste goed in onze samenleving daadwerkelijk mogelijk is. Zou hij er serieus over nadenken, zou hij zijn regering misschien wel helemaal niet dankbaar zijn voor dit mooie cadeautje.
Tijdens deze discussieavond gaan met elkaar in debat over de werkelijke grenzen van de vrijheid van meningsuiting en de neoliberale ideologische structuren die daaraan ten grondslag liggen. Tevens zullen we kort ingaan op verwante domeinen, zoals de vrijheid van godsdienst en de onafhankelijkheid van de wetenschap.
Date & Time:
Monday, 22 May, 2017 – 19:30
Category:  discussion/presentation
Topics: anarchie anarchy elections democracy
Price: free
online:
http://agamsterdam.org
email: aga@agamsterdam.org
MKZ
Eerste Schinkelstraat 16
1075TX Amsterdam
Netherlands