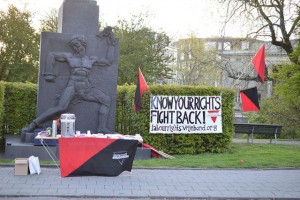 Vanochtend vroeg hebben mensen van de Anarchistische Groep Amsterdam en de Vrije Bond samen met sympathisanten de folder met koffie en thee uitgedeeld aan mensen op weg naar hun werk, voor henzelf of om mee te geven aan hun buitenlandse collega´s. We hebben de dag van de arbeid uitgekozen als kick-off voor onze site: labourrights.vrijebond.org en de nieuwe folder 'Arbeidsrecht in Nederland (voor migrantarbeiders)'.
De folder geeft een basale introductie in het Nederlandse arbeidsrecht, speciaal bedoeld voor de vele migrantarbeiders die hier met name in hotels, horeca, fabrieken en tuinbouwbedrijven maar al te vaak uitgeknepen worden. Hij is verschenen in 6 talen (Engels, Frans, Pools, Grieks, Spaans en
Nederlands) en op de site is de tekst beschikbaar in meer talen (waaronder Bulgaars en Kroatisch).
Als je geïnteresseerd bent of iemand kent die geïnteresseerd kan zijn, check de site : labourrights.vrijebond.org of stuur een mail naar: aga(at)agamsterdam(dot)org voor een papieren versie. Workers Unite and Fight Your Boss!
Andere acties vandaag die in het teken staan van 1 mei en arbeidsstrijd: 1 mei demonstratie Nijmegen, 17u Schaek Mathonsingel in Nijmegen, www.1mei.org, Solidariteitsfestival Den Haag, 14-18u, Het Plein.